The power of work.
Goodwill relies on members of our community to support our job placement services. Financial gifts from caring individuals like you make it possible for Goodwill to help people with barriers to employment go to work by providing jobs, job training and educational opportunities at no cost to them. Your gift shows our participants you believe in them—and that they should believe in themselves.
By giving a little bit, we can make a dramatic change in someone's life—like Justin.
Justin's Story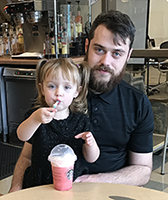 Justin Graham earned his GED when he was just 16 years old and then supported himself working construction. For the next eight years, he supported himself by working construction. Two years ago, he and his girlfriend of three years had a daughter, Sage. But the relationship broke up and Justin found himself in a 10-month-long custody battle. He resigned his job to focus on the court case and, without an income, lost his apartment.
Happily, Justin now has full custody of Sage and is working to rebuild a life for the two of them. He decided he needed a job what would allow for plenty of time to be a dad, so he entered Goodwill's Barista Skills Program and graduated in November. "Goodwill was willing to work with me and my schedule. They were totally supportive of what I had to do on the side."
Today, Justin is looking for a job in a local, independent coffee shop. "My long-term goal is to open my own coffee shop and rival Starbucks."
Together, we can change lives.
Together, we can offer people hope, dignity and independence by providing them with the means to create better lives for themselves and their families—and our communities. Your financial gift is 100% tax-deductible and 100% of every dollar you give goes directly to funding job programs and scholarships.

---
You can help a Goodwill participant find success through the power of work by
making a financial gift today. Thank you!