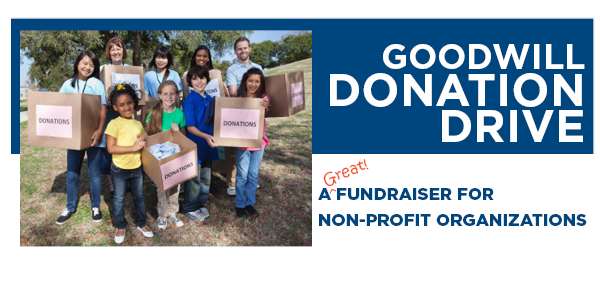 RAISE FUNDS | CLEAR CLUTTER | REDUCE LANDFILL
Sponsor a donation drive to benefit your school or non-profit organization by collecting reusable goods such as clothing, jewelry, household items, toys and electronics.
HOW IT WORKS

STEP 1 Promote your donation drive 2-4 weeks prior to Goodwill coming on-site. We can help, download the resources below to market and mobilize your group to drop off their donations.
STEP 2 Pre-collect items while you promote your drive.
STEP 3 Goodwill brings a truck to pick up the collected donations at the end of the drive. We will fill the truck with your donations and a check will be mailed to you. We donate $500 to your cause for every truck you fill up (HINT: It will take 75-100 donors to fill a truck if they all bring a 13-gallon size bag). We will also pay proportionately for partial truck fills.
Your donations to Goodwill help our environment by reducing the amount of goods going into the landfill AND they also support our mission. We offer this fundraising program to schools and organizations to help support activities.
Goodwill is a 501(c)3 non-profit whose mission is to help people with barriers to employment go to work by providing jobs, training and educational opportunities.

Host a successful Donation Drive by using our Donation Drive marketing templates:
DONATION DRIVE HALF SHEET FLYERS
*Please note: Goodwill of the Olympics & Rainier Region Donation drive opportunities are only available in selected areas in these counties:
 S. King, Kittitas, Pierce, Thurston & Yakima