Goodwill's FREE professional Donor Concierge team specializes in assisting donors through each step of the estate & downsizing process. We're here to provide a smooth & seamless transition to respectfully organize & donate your, or a loved ones, belongings to Goodwill.
SERVICES INCLUDE:
• In-home evaluation by our Goodwill Donor Concierge (third-party appraisals for tax deduction purposes available upon request)
• Detailed inventory of donated items
• Careful packing & removal of donated items
• Goodwill's Premium goods team researches, cleans, prices and sells items on Shopgoodwill.com to maximize value of donations in support of the Goodwill's mission
• Detailed list of items sold reported to donor for tax value purposes
ADDITIONAL SERVICES:
• Home cleaning & small repairs offered by Goodwill's GO2 Property Services professionals to prep house for sale
There is NO charge for this service.
What Makes Goodwill's Estate Services Different than the Competitors?
Goodwill's Estate Service is a completely FREE service designed to help you sort through belongings and donate them respectfully.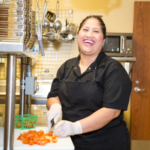 Those donations then change future lives by funding Goodwill's mission to help people with barriers to employment go to work. Goodwill provides 30+ job training & educational opportunities & places our graduates in jobs at either Goodwill or one of our 1,000 partner organizations. Last year, Goodwill placed over 3,000 people in jobs in the community & over 10,000 people received job training and education. Your tax deductible donations support our mission to help people go to work.
Learn how we can help you downsize & how you can make a BIG impact.
Contact Goodwill's Estate Services today!
253.573.6687 |

[email protected]

 | (or toll free at 800-584-7996)