Training is provided for individuals who are 18 years or older
Goodwill offers an ideal, real-world training opportunity for people interested in the Food Services field. The Culinary Skills training program is designed to train-while-you-work to prepare students for entry into the food service industry as pantry cooks, line cooks, pastry chef assistants, cashier/register/hostess's, catering supports and back end of the house help.
For more information call the Culinary Training Case Manager at 253.573.6656 or email at [email protected] to learn more about this great opportunity and to reserve your spot today!
Program Overview
Work as a team and grow as an individual under the daily guidance of a professional Chef in our Neighborhood Bistro. Placement, resume and networking assistance is available and the program features personal support and resources to help you complete the program and find work. No food service experience needed, but motivation to work and learn is!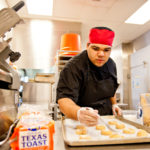 Earn a Culinary Essentials Certificate and learn:
Knife Skills
Catering
Kitchen & Food Safety
Basic Cooking Techniques
Baking
Soups
Customer Service
Cash Register
Culinary Advanced Certificate and learn:
Advanced Cooking Techniques
Hot and Cold Line Service
Recipe Interpretation
Earn: Cash Bonus for student participation and attendance, free meals, uniforms & shoes, internship, placement & support and free ServSafe credentials.
Classes are 8:00am – 3:00pm Monday – Friday. Students will receive a stipend for time spent training in the kitchen.
Thanks to our generous donors this program is available for FREE to participants.  Please call  253.573.6656 for more information!