Millions of low-income young Americans lack the skills, knowledge and experience needed to succeed in the job market. For many, it's because they have not earned their high school diploma or learned the skills needed to enter the workforce.¹
For Matt, age 17, high school was difficult. "I moved to a new school when I was in 7th grade and I felt like an outsider," he says. "It was hard to focus on my school work because I didn't fit in."
Emani, age 18, had a similar experience. "In high school, everyone is expected to know the same things and learn the same way. There are a bunch of different ways to learn, but high schools don't always provide the chance to experience them."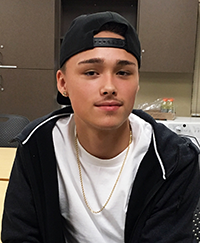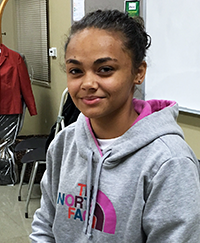 Matt and Emani both looked to Goodwill for a different path—and discovered YouthBuild.
YouthBuild is an international education and training program that serves "disconnected" young adults between ages 16 and 24. The 6-month program helps students transform their lives by obtaining their GED while simultaneously learning construction skills and other soft skills necessary to be successful in the job market.
Goodwill has offered YouthBuild for 10 years. Applicants undergo a rigorous application and interview process followed by a two-week orientation called Mental Toughness to determine their readiness for the program. Each student is also paired with a case manager who coaches them during and after the program to help them reach their goals.
"Post-graduation success takes many forms—enrolling in school, securing a first job, signing a lease," says Audra Laymon, youth programs manager. "At YouthBuild, we are especially excited to help our graduates enter registered apprenticeships where they can establish a career path and receive sustainable wages. There is a huge opportunity in the trades right now with an aging workforce and booming projects."
In the course of their full-time enrollment, YouthBuild students:
Obtain job skills and earn stipends
Gain industry-recognized certifications in preparation for productive careers (Multi-craft Core Curriculum (MC3), GED, flagger, OSHA, first aid)
Give back through participation in community service
Receive case management support including placement and retention assistance and ongoing services
Matt and Emani are enrolled in Goodwill's current YouthBuild class. "I came to Goodwill to find out about the GED program," says Matt. "Then they told me about the construction program. Construction is something I've always wanted to do and I picture myself getting into the field. So it really sweetened the deal. I will not only have my GED but a career path."
Emani says, "At Goodwill, everyone is here for the same reason. No one is better than anyone, and we can learn at our own pace. Everyone here had some kind of problem in high school—whether it's learning or behavior—but you're not judged. I really like that."
Building communities, building lives

Goodwill partners with Habitat for Humanity for the hands-on construction training. Students build homes for low income
families in our neighborhoods. "We get to give back while we learn," says Emani. "It's a win-win. I like it."
For more information about YouthBuild, contact Audra Laymon at 253.573.6746 or visit our webpage.
Working for the community
Goodwill helps people with barriers to employment go to work by providing jobs, job training and educational opportunities. From our workforce opportunity centers in Tacoma, Longview and Yakima, we provide assistance to nearly 10,000 people each year. With the help of generous donors like you, we can increase our reach and get more people back to work. Instead of a handout, Goodwill offers people a hand UP to better themselves, their families and our community. Give a gift today.
__________
¹ Youth Employment Matters! Policy Brief, 2014, Urban Alliance
YouthBuild is funded 80% by a $1.1 million grant awarded under the YouthBuild, U.S. Department of Labor's Employment and Training Administration. This program is an Equal Opportunity Employer/Program and Auxiliary Aids and Services are available upon request to individuals with disabilities. 29. CFR 37.34